Limerick Institute of Tecnology
Limerick Institute of Tecnology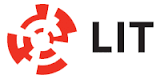 Tracey Larkin
Dr Tracey Larkin is a B.Sc. Ph.D. Biochemistry graduate from the National University of Galway. Following Dr Larkin completed a post doctorate with the Life Science Dept. of the University of Limerick in the area of food biochemistry and modified atmosphere packaging. Dr Larkin then worked with Olympus Diagnostica in clinical research and development as a project/program manager for a number of years. Currently Dr Larkin is lecturing a range of subjects in the dept. of Applied Science at the Limerick Institute of Technology. Dr Larkin's current research focuses on analysis of antioxidants/bio-actives in foods and has an IRCSET funded project to investigate organic fruits and vegetables. Other research includes consumer analysis in relation to purchasing of packed foods. Dr Larkin is also involved in sensory evaluation and is the principal investigator and co-ordinator for the research group and development service Foods LIT. This service supports new product development, product improvement, benchmarking and quality-testing for SME's.
Agnes Bouchier-Hayes
Agnes Bouchier-Hayes is a Home Economist and full time lecturer with Limerick Institute of Technology. Agnes began her career in the food industry with BIM- Bord Iascaigh Mhara- the Irish Sea Fisheries board as Seafood Promotion Advisor to the Marketing Development Division. This role enables Agnes to work with companies to develop innovative products and work with the companies to bring these seafood products to market both nationally and internationally. Upon leaving BIM Agnes worked as Home Economist and food stylist on television, film and publication projects th Richard Corrigan, Trish Deseine, Oliver Paton, Luke MacManus amongst others. Agnes continues to collaborate on various exciting media driven projects.